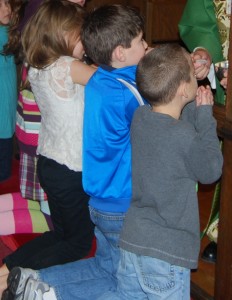 The time children spend in Sunday School is just a small fraction of their week. They spend so much more time at home, with parents, grandparents, and other loved ones, and it is here that much of their faith development will and should take place. They will remember the Bible story they learned at church school, but that will never have the same impact on their faith as folding hands and bowing heads alongside their favorite grownups.
Parents may wonder where to begin making their Christian faith a part of every day life, or may be looking for ways to expand practices already begun. This page includes links to resources to help with such practices as praying before meals and before bed, and other ways to incorporate important faith practices into your family's life each day. This page will be updated as new resources become available, so check back often!
Here's a simple practice you can begin from the first day of your child's life–or the first time they start day care or school, or any other day–that will form a great foundation for any other expression of faith. Bless One Another.
Some other resources for use by families with children and anyone desiring a closer walk with God: